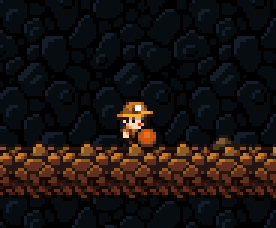 Spelunky B-Ball: A Tiny Mod
Welcome to the home page for Spelunky B-Ball, a mod for Spelunky. What it does is add a 1 in 10 chance that a crate will spawn a basketball! The basketball is an object that Derek Yu included in Spelunky but never actually used. This mod restores it to the game. It's kind of fun. It's really bouncy, and when you walk with it, there's a dribbling animation.
This work is copyright Darius Kazemi, 2010. This is a mod of Spelunky v1.1, which is copyright Mossmouth LLC, 2008, 2009.
You can see how I created the mod over at the Mossmouth forums.