When people write about Super Mario Bros., they often include an image like this: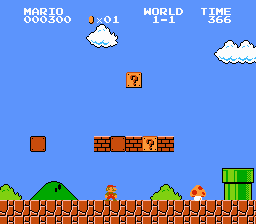 Look at those pixels: clear as a crisp Spring morning! For a lot of people, this signifies a retro aesthetic. It's also a wholly modern aesthetic, divorced from the experience of playing on physical monitors in the 80s. (Jason Scott wrote a good article about how most old games look better on old monitors.)
Even though I grew up playing Super Mario Bros. on my NES, pictures like this mean close to nothing to me, on an emotional level. I don't get pangs of nostalgia for it.
This is because when I played Super Mario Bros., it was on a shitty CRT monitor with tons of bleed where I turned the tint control knob up to the max. This resulted in Mario living in a world of day-glo magenta where the barrier between objects was tenuous at best, and everything had a halo. What can I say, I was 5 years old and I loved the little knob that turned things neon!
I spent a few minutes this morning trying to recreate what that original image was like. (To the pedants: the following image is not technically accurate: I just threw it together by learning a little bit about YCbCr decomposition and applying a PAL and a lens filter–I would have experienced NTSC as a kid in America.) Here's what nostalgia looks like for me: