Back in November I migrated my blog from Blogspot to WordPress. I am incredibly happy with that decision, in large part because I decided to shell out $87 for the Thesis theme, which you see running here on my blog.
Prior to Thesis I'd used WordPress and definitely liked it. I even found some themes that looked pretty good. But Thesis is more than a theme: it provides an easy dashboard to manage both the design of my blog and the way its content is structured.
One Basic Thing: Nav Menus
For example: that nav bar at the top? Thesis shows me a list of Pages I've created in WordPress, and all I have to do is select them and they appear at the top.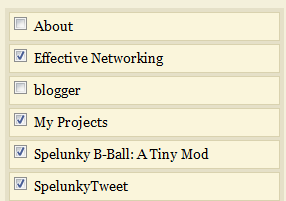 What about the nested menus? I just use WordPress' built-in concept where I set a Page as a child of another Page. That's it.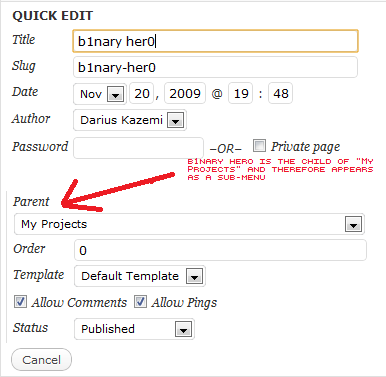 That doesn't even cover the fact that it will also automatically create nav menus for categories. If you look at "Games I Love," that's actually a category page, with the names of the games underneath as sub-categories (similar to the concept of child Pages in WordPress).
With the touch a button, I can change the width of my layout or any of my columns, switch seamlessly between 2- and 3-column layout, change my header formatting, change my <meta> info, alter how thumbnails are handled, insert header/footer scripts (like for stats), and <noindex> various pages on my site that I don't think should show up in Google searches (monthly archives, etc).
And those examples are only the content organization options! The design options abound; I can change the color of all sorts of things on my page, change fonts, create a new default header style, tweak the format of teasers down to the "link to full article" text, change the order of my columns, or switch to a full-width layout for a splash page.
And that doesn't even begin to cover all the awesome customization I can do with Thesis hooks. Hooks let you insert PHP at specific places in your blog layout (for you Thesis users out there, here's a handy guide to hooks and an excellent hook plugin called Thesis OpenHook). The social icons on the top of my page and the profile box on the right hand side are two small examples of what I've done.
And finally, you get custom CSS control over your page if you need it. Thesis' default CSS architecture is really clean so it's easy to make changes to. I often get confused messing around with CSS but a Thesis page is organized in such a way that it's usually a pretty simple proposition to tweak my CSS to make it do what I want.
Why am I posting this here?
I participate in the Thesis affiliate program: I don't make a whole lot of money off of it, but it's a way for me to pay for my web hosting and maybe make up for some of the time I put into this website. And Thesis 1.7 was just released. I'm not using it on Tiny Subversions yet, but I have been playing with it on a test site and it is excellent. There's an even better dashboard, faster page loading, integration with Javascript libraries like jQuery, better SEO, comment configuration, and more.
So I ask you this: if you're thinking about buying Thesis, take my word that it is well worth the $87. I wouldn't be participating in an affiliate program if I didn't sincerely believe in the product in question. There's even a 30-day money back guarantee. And if you do buy Thesis, please do so by clicking on one of the affiliate links from my website, or perhaps the little graphic in my right-hand sidebar. If you buy it that way, I get 30% of the money you spend. So while you don't get a discount, at least you know that you're also basically donating about $25 to support Tiny Subversions.
If you have any questions about Thesis or this whole affiliate program thing, please feel free to comment here. Thanks!