Holy crap. I need this (from here, sadly, it's Photoshopped and not real):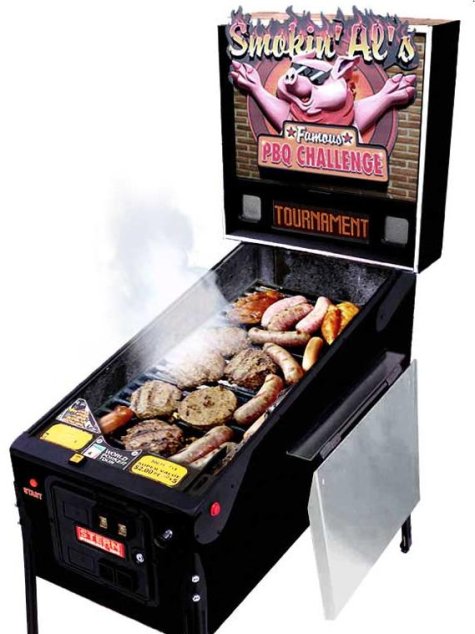 I'm a huge BBQ fanatic and also a pinball fanboy. I had a friend in high school whose dad collected pinball machines, and I used to hang out at his house and play free pinball all the time, and also would lend a hand in repairing the machines.
While I'm on the topic of pinball, I would like to put forward my theory that the Tony Hawk Pro Skater games are a modern extension of pinball. The games aren't about skateboarding as much as they're about racking up a high base score and getting a huge multiplier. Plus, you're moving this rolling thing all around a physical environment consisting of ramps and things to bounce of off. On top of that, pulling off a single chained mega-trick in THPS is a very similar experience to keeping a single ball in play in any pinball game.
I did not expect to like the THPS games, but I bought THPS 3 based on the perfect 10 score that it had received in Gamespot. And they were right: it was a brilliant game and I loved it, although I had to figure out why since I really had no interest in skateboarding. When I made the pinball connection, it all became clear to me. The aesthetics of THPS may be skateboarding, but the mechanics and especially the dynamics are mostly pinball.