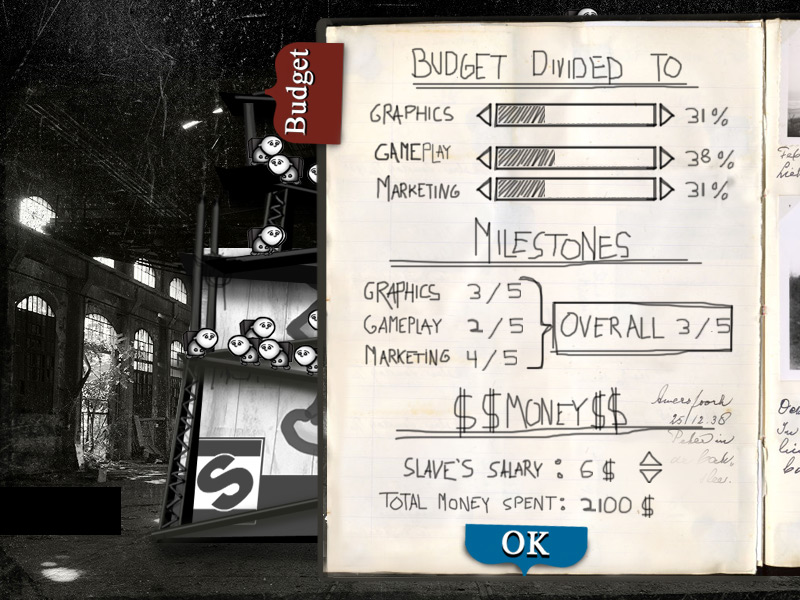 So back in September I posted a design experiment on this blog.
Well, much to my delight, Petri Purho actually created a game (loosely) based around my challenge! It's called The Truth About Game Development. He made it in 7 days, as the EGP does–apparently, he makes one such experimental game every month. That's awesome!
First reaction: this is totally freaking sweet. The production values are actually very slick. Its aesthetics are very reminiscent of Kyle Gabler's EGP games, and actually bears a fair amount of resemblance to The Crowd.
What's the game about? Well, you're a producer (I can only assume Executive Producer!) working at a Kafkaesque game company where the game developers are your slaves. You can control things like their salary (by default $3/hr) and the amount of your budget you put into graphics, gameplay, and marketing. Killing developers makes them work faster. "Fear of death is the best motivator," the game tells you.
An especially nice touch is the random events. I got one saying (paraphrased), "Hey, one of the peons has figured out that a wacky controller will get the game more publicity. Shall we get the slaves working on it at higher development cost?"
I haven't figured out exactly how to win the game yet, but it's a quick play and a pretty small download at 8.1 MB. Give it a try! It's funny, and delightfully cynical.
It's also weird, because I was just telling someone on Sunday how much I want to make a game about the game development process. This is more of a satire of the process, but it's a pretty effective satire.